5 Star Carpet Cleaning - Give Your Carpet a Refreshing Look with our Carpet Cleaning in Chattanooga
has your pet, child, or family member left a mess behind on the carpet? Or has it become dirty due to gradual wear and tear? Our 5-star carpet cleaning service can restore your carpets to their pristine condition. Bid farewell to dingy and stain-filled carpets once and for all. Hire our experts today to eliminate dirt particles, unpleasant odors, and stubborn stains from your carpets.
When it comes to carpet cleaning, we avoid using harsh chemicals to clean the carpet. Instead, our team resorts to eco-friendly cleaning agents, a better alternative to soaps, detergents, or other harmful chemicals. Such substances often degrade carpet fibres and leave behind soapy residues. These residues, in turn, attract dust and debris, causing the carpet to become dirty faster.
If you desire carpets that dry faster and remain cleaner for longer, contact 5 Star Carpet Cleaning in Chattanooga today!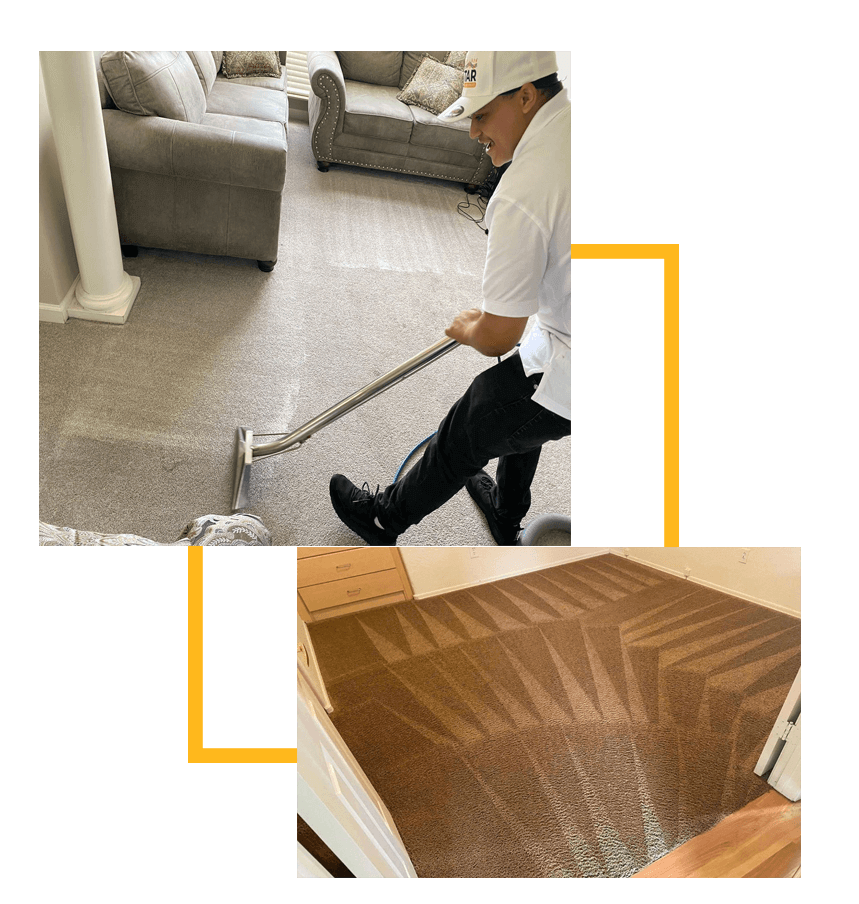 5 Star Carpet Cleaning Service
The Benefits of Hiring a Professional Carpet Cleaner
Deeper Clean
Most professional carpet cleaners in Chattanooga have access to a wide range of equipment and are learned in various cleaning methods. Since they clean carpets on a usual basis, they are familiar with the techniques to remove stubborn dirt particles and debris & clear the allergens from deep within the carpet fibres.
Longer Lasting Clean
Since most professionals bring eco-friendly products, the cleaning agents they utilize ensure that your carpet gets a long-lasting clean. They also imply techniques like hot water extraction, steam cleaning & dry cleaning, which remove stubborn stains and foul odor from the carpet's surface for good.
Peace of Mind
When you call a professional carpet cleaning service, it gives you peace of mind that your carpets are in good hands. Our trained specialists have ample experience in dealing with different carpets. They often clean oriental rugs and other expensive carpeting, which makes them an ideal choice for a carpet cleaning job in Chattanooga.
Increased Value
If you plan to sell your home and your house is carpeted, a cleaner and fresh-looking carpet will increase your home's overall sales value. By hiring a professional carpet cleaning in Chattanooga, you get a spotless clean carpet that gives an attractive appeal to potential buyers visiting your property.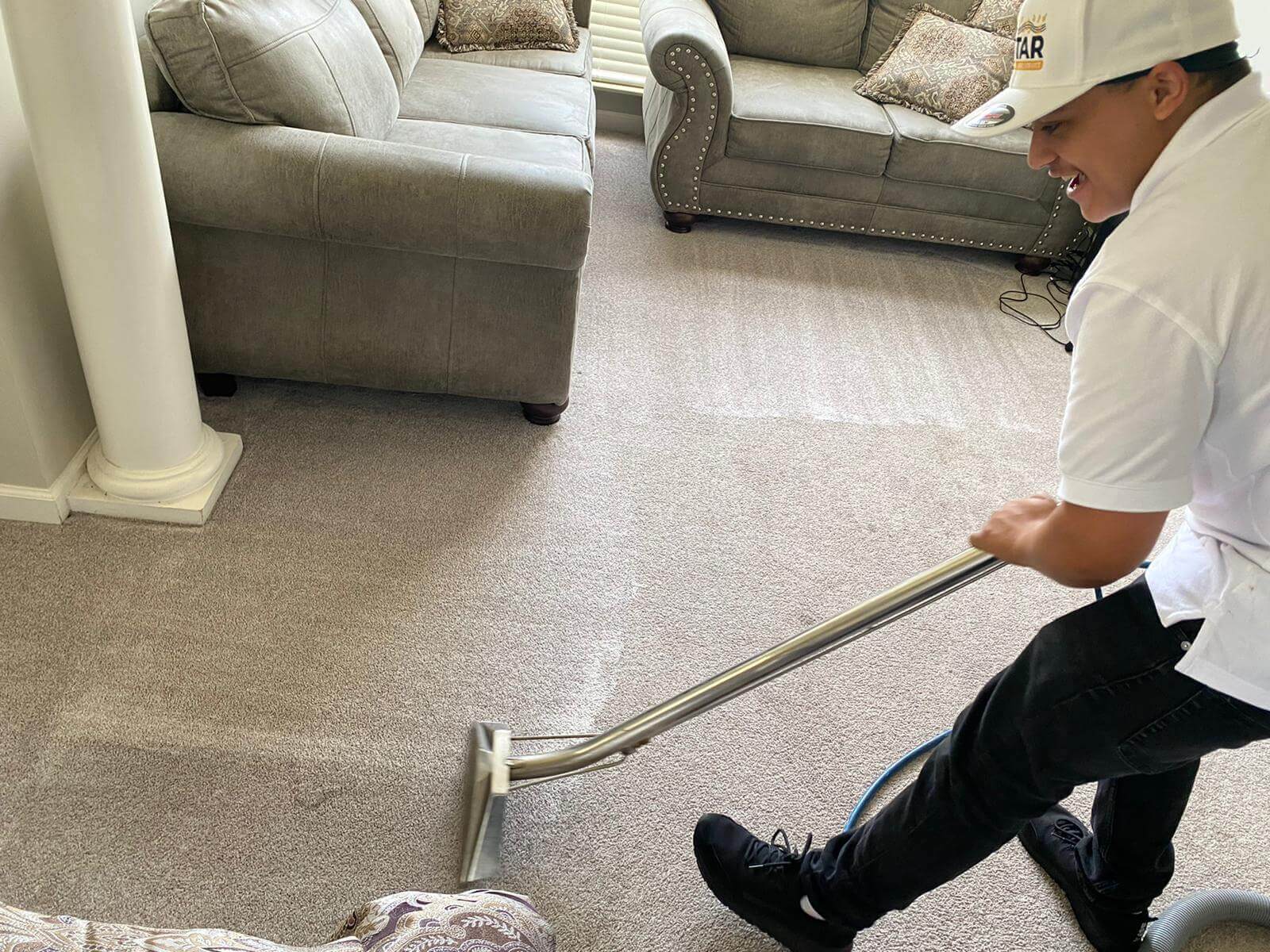 How to Prepare For Carpet Cleaning in Chattanooga
If you plan to get your carpet cleaned in Chattanooga anytime soon, it's best to vacuum the surface thoroughly. Vacuuming the surface will ensure no visible debris is present on the surface. Next up, you can move the furniture to safer locations. For example, bookcases, lamp stands, sofa sets, dining tables, fish tanks & armoires are just a few things you can move or replace. You can even move fragile items and home decor just in case our team doesn't accidentally damage your belongings.
If you cannot do the heavy lifting, wait for our professionals to arrive.
Why Choose 5 Star Carpet Cleaning in Chattanooga?
When it comes to carpet cleaning in Chattanooga, we deliver exceptional cleaning carpet cleaning service matching the industry standards. Our professionals use the finest cleaning products that can work wonders on different carpet fibres. When you hire us for the job, let us assure you that you get a fully licensed, bonded & insured team to perform carpet cleaning services in Chattanooga. We prioritize customer satisfaction by only sending qualified, well-trained & certified professionals to your place.
Say goodbye to stubborn stains and unpleasant odors, as our skilled technicians bring a wealth of knowledge and proven techniques to permanently clean your carpets.
Contact us today for a carpet cleaning experience that exceeds expectations.
Frequently Asked Questions
Why Should I Have My Carpets Cleaned?
Regular carpet cleaning is essential to maintain a clean and healthy indoor environment. A carpet free from dirt, allergens and bacteria can make your indoor air quality breathable. At the same time, you get a fresh carpet that has a longer lifespan.
How Often Should I Have My Carpets Cleaned?
The frequency of carpet cleaning depends on factors like foot traffic, the presence of pets, and your hygiene goals. Usually, our carpet cleaning company in Chattanooga advise that you get your carpets cleaned at least once every 12 to 18 months for their excellent appearance.
Which Method is Best for Carpet Cleaning?
The best method for carpet cleaning depends on various factors such as carpet type, level of soiling, and personal preferences. Some commonly implied methods are hot water extraction, steam cleaning, dry cleaning, and bonnet cleaning. Can't decide which way is best suitable for your carpet? You can always consult our carpet cleaning in Chattanooga.
Will All of the Stains Come Out?
The success of a carpet cleaning depends on a number of factors, such as how nasty the stains are, how aged the carpet is, and the type of carpet. Some stubborn stains require special treatments; others require advanced cleaning techniques or concentrated products to maximize stain removal. Either way, our carpet cleaning experts in Chattanooga get the job done professionally.
How Long Until I Can Walk on My Carpet?
The drying time for carpets varies depending on humidity, airflow, and carpet thickness. Generally, carpets can be walked on with clean shoes or bare feet immediately after cleaning. Still, avoiding wearing shoes or allowing heavy foot traffic until the carpet is fully dry is best to prevent re-soiling.
Will the Cleaning Take Care of the Bad Odor?
Professional carpet cleaning can help eliminate bad odors caused by spills, pet accidents, or general carpet wear. However, the effectiveness of odor removal depends on the source and severity of the odor. Carpet cleaners often use deodorizers or specialized treatments to address odor issues and leave your carpets smelling fresh.
Our highly talented carpet cleaning experts in Beaumont can make your carpets spotlessly clean. We use high quality disinfectants to make sure your carpet gets free from all microbes and allergens. Our disinfectants are ecofriendly so they are safe for you and the environment.